The COVID-19 pandemic has prompted many companies in Malaysia and the entire world to adapt to remote working rapidly. This experience has made companies realize that remote work is feasible and does not necessarily mean a compromise in productivity.

However, while some have had a positive experience with remote work, some were not that fortunate. It depends on many factors such as the personality and discipline of your team members, the availability and access to the necessary tools to do the work required, whether the working environment is conducive or not, and many others.

Adapting to a flexible working environment won't be an easy feat for most companies. But, there has got to be a reason for so many companies including MNCs adapting to it regardless of the challenges. Some of the benefits and downsides are explored as shown below.

Pros
1. Eliminating traffic jam stress
Your staff having control over their working hours basically allows them to go into office during non-peak hours or even work from home or their favourite café. It is not uncommon for your staff to spend close to 3 hours daily getting stuck in traffic to get to the office. The time they get to save from getting stuck in traffic can be channelled into more productive work hours enabling them to finish fulfilling their work hours earlier. This lets them embark on that pet project that they have always wanted to do or even just more of a good plain'ol family time.
2. Attending to personal obligations
Imagine if they have to bring their child who just fell sick to a doctor, or they need to be at home waiting for the repairman to come to their house or, they need to do some banking in a bank; they can do all of that if they have flexible working arrangement.
Let's face it, all of us are mere humans and humans get curveballs thrown at them from time to time. Being able to sort all these out without having to apply for a leave every time an emergency or a chore needs to be sorted out, hikes up job satisfaction by leaps and bounds.
3. Being in control of their own time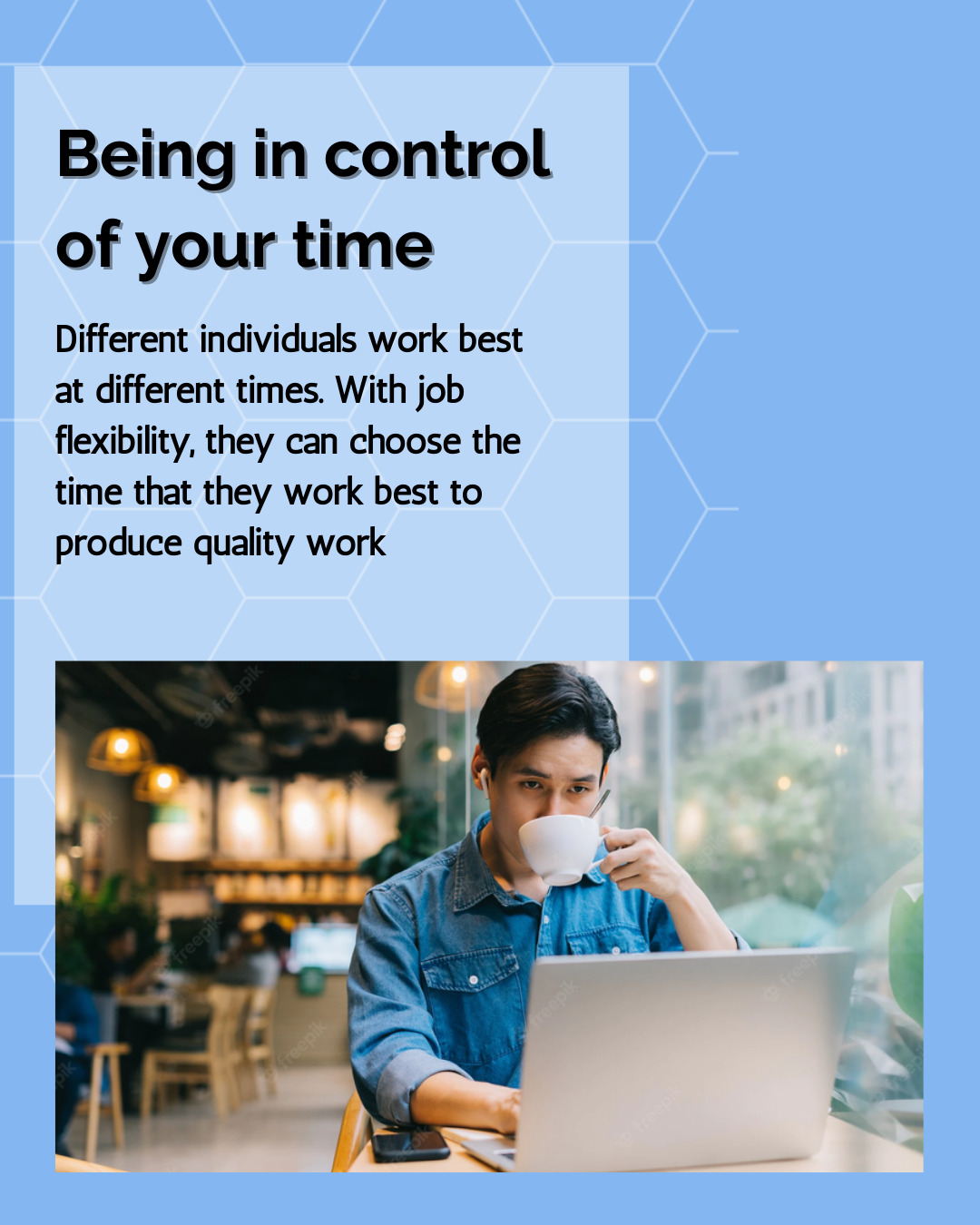 Everyone functions differently.
Some of us work better alone without any external distractions while some are able to focus on their work even if they are in a rave party. Some work better in their favourite café sipping that special cup of latte while some prefer to be in the office with their colleagues. Some of us struggle to perform well in the morning while some are just natural early risers. Point is everyone performs their best at different hours. As long as the job allows this kind of flexibility, it might be in everyone's best interest to do it.
4. Work-Life Balance
Different people experience stress from different causes. Some occurs from working overtime frequently while some go through stress from having to meet unreasonable datelines. Whatever the source may be, nothing positive comes from high levels of stress.
Stress, when experienced at high levels or for an extended period of time, negatively affects mood, ability to focus, sleeping pattern, and basically the general wellbeing of a person. This, in turn will negatively affect your staff's productivity and satisfaction in the job. Therefore, it is in your best interest to take care of the physiological and mental wellbeing of your staff.
The younger generation is especially drawn to jobs that promote work-life balance. This can be a good way for recruiting new and young talents while retaining the experienced ones.
There are always 2 sides to every coin, yin and yang; you get the drift. Nothing is perfect, just like no one is perfect as well.
Cons
1. Nothing gets done
Everyone knows this. With great freedom, comes great responsibility. One would need to be disciplined and responsible to be able to deliver their work on time and not slack off by watching Netflix and chill when one should be really working.
It can be challenging with distractions all around everywhere and the temptation to just procrastinate and put it off till later can be alluring. However, it can be rather similar anywhere. The difference lies in the person's mentality and attitude towards work. If a person has the wrong attitude towards work, most likely they will perform the same whether they are in the office, home, or a café.
2. Work 24/7
On the contrary to the point above, with flexible hours, your staff will not have a clear distinction of clocking in and clocking out. They might end up working more than they would in a traditional office setting. While this may sound trivial, it is not. It is only a matter of time before your staff gets burned out after consistently being overworked. When that happens, performance and productivity drop tremendously. Motivation to work is almost non-existent. Recovering from burnout is not a certainty. Even when it can be done, recovery period will be a lengthy one. You might just lose that staff that has proven to be valuable all this while.
3. Jobs that require teamwork
Certain jobs require the entire team to be on the same schedule so that they can collaborate and get their work done. For those kinds of jobs, it would be more convenient for everyone to gather in the office and work the same working hours.
Conclusion
It would be ideal if employees are able to determine when they should do their work so that they can perform at their optimum level every time. Having said that, there are certain jobs that require the employees to be in the office at the usual working hours. Besides that, there are also those who abuse the freedom entrusted to them.
In order to successfully adapt to this new working arrangement, both employers and employees will have to play their roles.
Employees should acknowledge and abide by the rules set by the management. They should also be self-motivated and disciplined to achieve the objectives laid out by their leaders.
Employers should not fear the employees acting out and exploiting the opportunity. More often than not, employees will value their jobs more and perform better at their tasks.
In the end, it is all about communication between the boss and the staff. As long as there is trust and results are delivered at the end of the day, there really is no difference if the work was done in the office during office hours or anywhere else at any time.