The latest in technology simplifies so much of what once used to be complex and unnecessarily difficult in our lives. We see it all around us in the form of smartphones, wireless devices, and so much more. While the improvements in technology have helped simplify the average consumer's life, Sales Connection's software can greatly simplify and enhance your servicing business' asset management.
Among our top clients include giants from the elevator servicing industry such as EITA, Sernta, KONE, and plenty more. They use Sales Connection for its wide range of features that digitizes all of their business processes, including our industry-leading asset management system.
A Paperless & Digital History Book
We understand that as providers of machinery such as elevators and escalators, your customers often rent your assets rather than buy them entirely. Our customer history feature keeps an online record that is accessible by both technicians and the management to see who has previously used this device.
This works together with the servicing history feature to give you a very clear understanding of all the servicing that's ever been done on your assets such as repairs, part replacements, and it even helps you identify machine failures due to user error in the past. Long gone are the days of paperwork that is so easily lost and impossible to find specific information from — now, with Sales Connection, everything you could ever want to know about your asset is digitized online and made accessible anywhere.
Empower your Technicians
With years of experience from speaking to highly-skilled technicians, such as those that would be employed at your company, we're well aware that technicians much prefer accessing asset and job information digitally than carrying confusing paperwork with them for every service job.
Using the Task Scheduling & Team Management feature, your technicians can now be digitally assigned jobs and use their app to see what they have scheduled for them throughout the day — eliminating the need for unnecessary morning meetings, saving the company and them a great deal of valuable time.
Once your technicians arrive at their worksite, they will have zero uncertainty about the asset they are going to repair as they can see all the information about it such as its service and repair history, along with its specifications and job details, in the Sales Connection app. To make things even easier, they can scan a QR code that can be attached to each asset and be taken to the job and asset details of that asset specifically — especially useful for times when they have to service several elevators in the same building.
They can even collaborate with fellow technicians by tagging them with a simple alias '@' using our built-in chat system to discuss complicated repairs — gaining useful input.
Progress Updates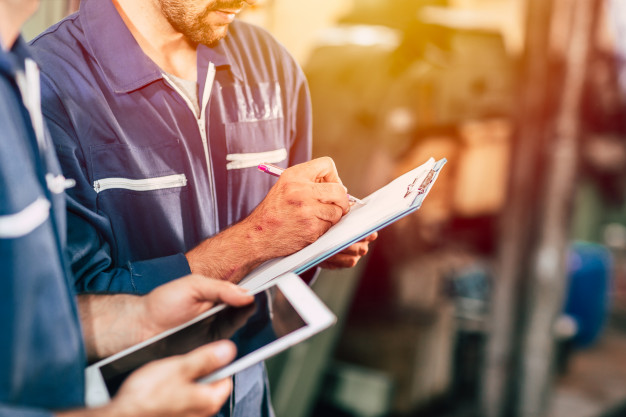 Instead of requiring manual follow-ups with each technician that is out doing equipment servicing work for your company, you can now see real-time updates of their job progress in the Sales Connection app or web interface. These updates come in the form of text, images, and videos, as well as status updates such as 'In Progress', 'Needing Attention', 'Completed', and many more — customizable to your business needs.
To read more about our wide range of features such as Remote Signatures, Expense Claims, Offline Capabilities with DATASYNC, and plenty more, click here.
Visit salesconnection.my or contact us at 03-5880 5110 for more information on how we can digitize and simplify your servicing business