Customer Relationship Management (CRM) is a system that allows businesses of all sizes to manage their interactions with current and potential customers. It is also used to centralize prospects and customers' data. The data can then be used to improve the customer experience, create more focused marketing, and increase revenue as well. All these are done in several ways.

1. Improved Customer Service

Gone were the days whereby sales was strictly just a transaction. With the sheer amount of competition in any industry, it is important for you to put yourself ahead of your competition.
One of the ways you can achieve that is to know all the details and history of the customer so that you can deliver excellent customer service. Details about your customers like their habits and preferences will enable you to personalise your approach in marketing and your communication with them. The entire customer experience that you will be able to give them will set you apart from your competitors.
Fun Fact: By using a CRM system, customer satisfaction rate increased by 47% (Capterra)
2. Better Customer Segmentation

As your company grows, so does your customer database. The earlier you have a system to gather data, the easier it will be for you to segment them.
Different customers come from different fields and each of them have different requirements and needs. Being able to efficiently separate them by their demographics will enable you to align your strategy and cater to their needs more effectively.
Based on what is important to you, customers can be segmented based on many factors. For example:
Field of Business
Ages
Geography
Income
Amount of sales done
Date of sales done
Products or services purchased
All this is only possible if you have been collecting those data and organized them in a centralized platform.
3. Centralized Database of Information

A good CRM system is able to house all the necessary and relevant customer details. When the database of information is centralized and easy to access, it can be game changing for you and your company.
Your sales team will be able to save time when accessing customer information as opposed to having to comb through different files in separate places.
You will be able to have a holistic view of the customer relationship with the company when all your interactions with your customers are stored in one platform.
You will be able to create reports for analysis and projections.
Fun Fact: 74% of companies say CRM system gives better access to customer data (Resco)
4. Streamlined Internal Communication

Streamlined communication and central storing of data enable different teams to pull data anytime and anywhere, improving communication between departments.
5. Managed Communication with Prospective Leads

A CRM system helps you centralize, optimize, and streamline your communication with prospective leads allowing you to have easy access to all the details, inquiries, and relevant information or data for you to provide a satisfactory response.
6. Improved Customer Retention

An in-depth understanding of your customers' requirements and needs is important in improving your customer retention rate. A customer's journey should be clear for the team to see in order for personalisation of marketing and sales efforts.
Fun Fact: By using a CRM system, customer retention rate increased by 47% (Capterra)
7. Higher Productivity and Efficiency

A CRM system will boost your team's productivity and efficiency as it centralizes all the information and data, eliminating the need for your team members to manually search for the relevant paperwork or scattered files.
Fun Fact: A CRM system improves productivity by up to 34% (Salesforce)
8. Increased Sales

You can constantly monitor your sales cycle to fix any flaws in your sales methods. The CRM system will be able to tell you what is working, what is not, and what needs to be done.
Based on the data gathered, you will be able to determine which customer segment you should focus your efforts and resources on. Besides that, you will be able to ascertain the products or services that are more popular or profitable to you.
Alerts and reminders can notify you or your team members of events or actions that need attention. Using these features, you will not miss out on opportunities to convert a potential lead or to enhance customer relationship.
Fun Fact: Crm system can increase sales by up to 29% (Salesforce)
9. Detailed Reports & Analytics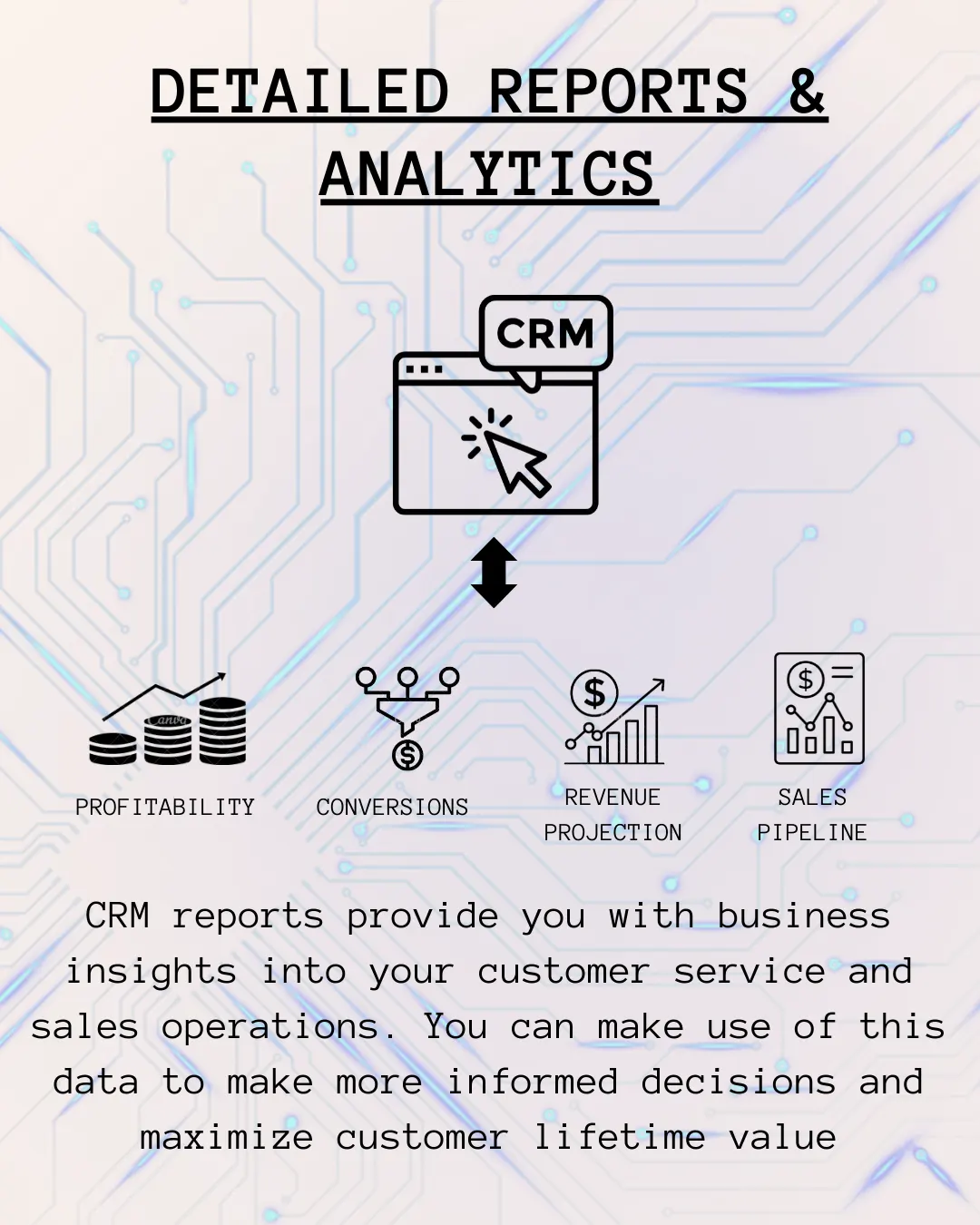 CRM reports provide you with business insights into your customer service and sales operations. You can make use of this data to make more informed decisions and maximize customer lifetime value.
Some of the reports that you can generate using a CRM system:
Profitability
Conversions
Revenue Projections
Sales Pipelines
Objectives
All in all, choosing the right CRM system is essential to your company's growth and operational excellence. The system should be flexible enough to cater to your specific business needs. Once done right, your customers' satisfaction with your company will grow, and so will your sales.